Posts in the 'Noble Rose Press' Category
17 October 2012
After spending months pouring into this project, Breezy and I are grateful to present:
Inside you will find paper dolls of the Captain and 15 of the most beloved passengers of the Titanic, mini-biographies, clothing changes, two fold-out scenes on the decks of the Titanic, and a faithful retelling of God's Providential work in history.
While learning about the bravery and sacrifice, children can play and remember…
Men gave their lives so that women and children could live. "Women and children first," was the cry! Then the lifeboats were lowered into the freezing water below and were rowed away from the sinking ship.
One hundred years ago this year was a night to remember. May we never forget to honor those brave men who went down with the ship, sacrificing their lives so that others could live!
"Greater love hath no man than this, that a man lay down his life for his friends."
—John 15:13

Now Available at Noble Rose Press & Vision Forum!
P.S. You can expect posts here to be much more regular now that this project is complete!
7 October 2011

Photography by Jonathan Hedrick
The past two years have gone by quickly.
Two years ago, Noble Rose Press started out as a simple idea for an Etsy shop. But it rapidly grew after a few emails, expressed interest, and business research… turning the idea into a larger project.
The idea began in May 2009 and turned into reality in October 2009 when a pallet of boxes containing paper doll books was delivered and moved into our home. Then it grew again in October 2010 when a load of new paper doll books, with the addition of coloring books, arrived at our door and moved in with us.
Those boxes have become a part of our lives, filled with tales of virtuous womanhood, illustrations of beautiful family life, and clothing from times past. (Boxes make for great end-tables in the living room, too!)
To celebrate the second anniversary of our publishing company, Noble Rose Press, we are having a sale…
Now through October 10th, you can save up to 40% off on our products, plus free shipping on US orders of $50+ when you use coupon code FREESHIP50. Click here to take a look!
.
We are thankful to the Lord for the way He has provided opportunities and granted the strength to persevere in creating products that elevate virtue through history and art.
"But thanks be to God, who in Christ always leads us in triumphal procession,
and 
through us spreads the fragrance of the knowledge of Him everywhere."
—II Corinthians 2:14
1 July 2011
In honor of Independence Day as well as wanting to offer our homeschool conference sale prices to everyone, we are having a major sale on our products at Noble Rose Press!
Our paper dolls series features godly women from history that inspire girls in biblical womanhood, modesty, and femininity. Collections Two and Four are especially timely for this holiday as they feature Martha Washington, Eliza Lucas Pinckney, Abigail Adams, and Sarah Edwards.
Something else we offer that you may not know about…
The Family Treasure Coloring Book is full of beautiful illustrations of family life. From a family picking apples in the orchard, to a mother reading aloud to her children, to the celebration of a wedding, to building a fort in the woods, this coloring book will inspire children and their families in the lost arts of play, dominion work, and family discipleship.
Now through Monday at Midnight EDT save 28% – 48%
on the Daughters of His Story Paper Dolls and
The Family Treasure Coloring Book at Noble Rose Press!

Like Noble Rose Press on Facebook | Follow Us on Twitter
P.S. Expect to find more pictures from last Saturday's wedding tomorrow… click here to subscribe so you don't miss them!
28 October 2010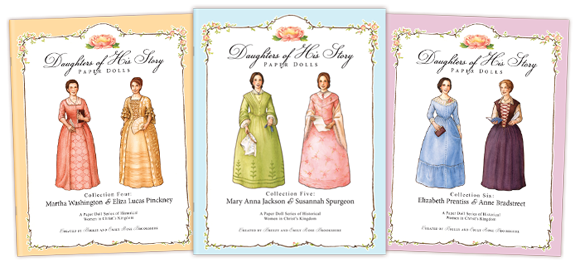 We are delighted to present our latest paper dolls from the Daughters of His Story series. We have had a wonderful time this summer working on the next three collections which feature Martha Washington and Eliza Lucas Pinckney, Mary Anna Jackson and Susannah Spurgeon, and Elizabeth Prentiss and Anne Bradstreet.
These ladies have become so dear to us as we studied their lives and legacies. We hope that they become as dear to to you, and that you are blessed by the Lord's goodness radiating from their hearts. We want young ladies to grow up knowing that the Lord cherishes purity and holiness, and that He changes the world through those who are faithful to His Word.
Noble Rose Press is having a grand sale for the announcement
of the latest paper dolls! Click here to see the great prices and read a
little more about these godly women from history!
It is not only possible to remain unstained by the world, by the Lord's strength, but it is imperative that we be proactive in glorifying God in our lives. These women from the past are shining examples of dedication to the Lord's work as wives and mothers who changed the world.
4 October 2010
The Family Treasure Coloring Book
Created by Breezy & Emily Rose Brookshire  |  Published by Noble Rose Press
This 48-page coloring book features events in the life of the Christian family. From a father teaching his sons how to mend a fence, to a family picking apples in the orchard, to a mother reading aloud to her children, "The Family Treasure" will inspire children and their families in the lost arts of play, dominion work, and family discipleship.
A project that has been in production for several months, The Family Treasure Coloring Book is finally ready to make its way to your home!
You can order today at Noble Rose Press (there's a special introductory price)!
(Stay updated with Noble Rose Press by following us on Facebook and Twitter!)

1 October 2010
Keep your eyes peeled for the announcement coming Monday!
(Subscribe here, so you don't miss it!)