Archive for February, 2009
26 February 2009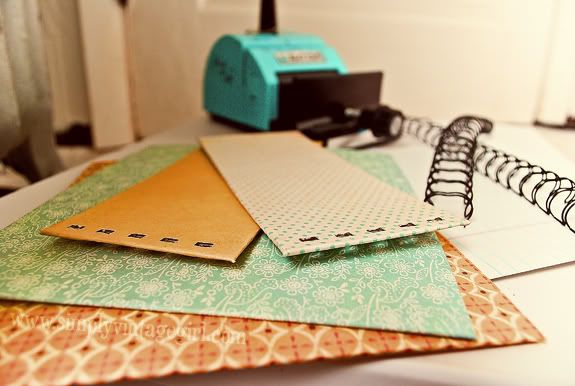 I made a couple notebooks for the Christians at the Crossroads conference the day before we left, which was quite an endeavor for such a busy day. Thankfully I was able to get them finished in time.
The covers are decoupaged (for extra beauty) chipboard with scrapbook paper. The lined pages are cut from one of those great back-to-school 5¢ notebook deals. The smaller one is actually made from the scraps of the pages in the larger book.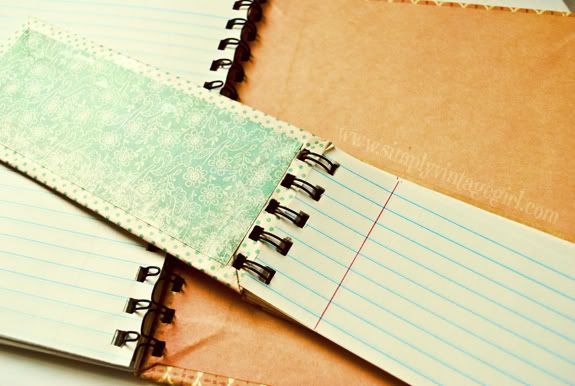 The handy little Zutter Bind-It-All machine punches the holes and securely crimps the binding to keep the notebook together. These are the first two notebooks that I have made with the Zutter, and I'm sure there will be many more to come. It is a very easy tool to use, and makes one feel quite productive!
18 February 2009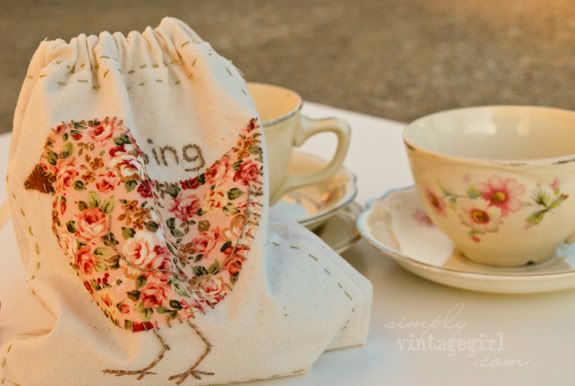 These were in the background of a photo shoot I did for the Girlhood Home Companion (a beautiful magazine for daughters, mothers, and grandmothers).
Momma made the made the little birdie pouch. It is themed off of a pouch my sister, Breezy, made several years back. The simple whimsy of it is darling.
The tea cups have been around for a long while. I don't remember a time when we did not have them. We still use them as we always have – for muffins and milk. They are old, chipped, and cracked, but just as lovely as they ever were.
17 February 2009
What a pleasure it was last weekend to have the opportunity to hear the Botkin family speak. And in addition to that getting to meet many, many like-minded families. It was truly a joy!
These are some of my notes, most likely reworded as I was jotting them down as quickly as I could while still trying to hear what they were saying next.
-
The home is a place of stimulation and delight . . . and a greenhouse for budding Christian leaders.
-
The family is a crucial part of God's creation. How can we expect to succeed and get along well with others if we cannot get along with our siblings.
-
If we get annoyed or upset with someone, we are in the wrong. We must get the log out of our own eye before we remove the speck from our brother's (Matthew 7:4-5).
-
Work builds the workers together. In the same way working together as a family builds the family together.
-
As adult children, we need to:
• Grow up
• Be responsible
• Take initiative
• Seek God individually
• Put ourselves behind the family vision and contribute as thinking adults
• Communicate openly and honestly (it is very important)
-
Earth is our battlefield. A soldier is eager to serve in the greatest capacity he can. We must be eager to serve the Lord in the greatest capacity.
-
There are only two services in life: serving self and serving God. Who are you serving?
-
Make the most of every minute, take every thought captive to Christ (2 Corinthians 10:5).
-
The most loving thing we can do to an unbeliever is share the Gospel with him.
-
The Bible does not say you "should," but you "must." A command demands precisely what is to be done. God has given us commands and we must do them.
-
Be willing to lower your name and bring up your parents' honor (i.e. don't say "Well, my parents won't let me . . ."). Don't blame, slander, share, or reveal your parents' sin. Instead of thinking, "What can my parents do for me?" think, "What can I do to serve them?"
-
Learn the interests of your parents, understand why they are interested, and develop those same interests. This applies to sibling's interests as well – become interested in what they are interested in, show them you care.
-
An attitude of disrespect can easily rub off — do not spend time with friends who are disrespectful and dishonoring to their parents and authority. Choose your friends wisely.
-
Our honoring of our parents and elders is linked to honoring God. If we cannot honor our parents, how can we honor God?
-
Our parents were selected by God before the beginning of time. To dishonor them is to suggest that God made a mistake.
-
Anna Sofia and Elizabeth talking with other young ladies after their session on Dominion Oriented Femininity.
-
The Pilgrim women cared more for those who they would never meet (the future generations) then they cared for their own comfort. May we do the same.
-
We are living in a generation where women have lost and forgotten what femininity means. The next generation will be looking to us to see what femininity is. What will they see?
-
We need to invest in the family that God has blessed us with. When we are investing in the family that we have now, we are practicing what we will one day be doing with our own family.
-
A dominion woman embraces a hard life and loves it.
-
Be selfless, not selfish. We need to think of how we can help and serve our father or husband. Look for ways to help and encourage.
-
The state of the nation is determined by the state of the home.
-
The first priority is to train and raise our children. The housework comes second.
-
Those are just a few of my notes. While typing these out and re-reading them I noticed that they would all be great post topics! I just might end up writing about a few of them. I hope you enjoyed reading over the notes.
The Botkins are hoping to have a few conferences across the county, so you might get the opportunity to go to one. I was greatly encouraged and challenged by the conference, it has changed our lives!
10 February 2009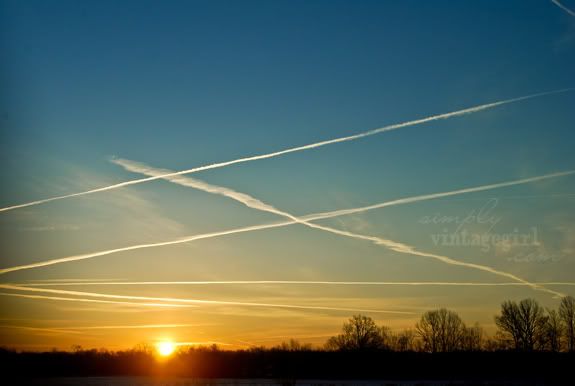 The beautiful sunrise on the ride down.
We have been away on a bit of a holiday! Last Thursday we traveled down to Columbus, Georgia for a conference with the speakers being the Botkin family. The session topics ranged from home life and siblings to economy and courtship (you can see what the schedule looked like here). It was a wonderfully convicting, encouraging, and inspiring weekend filled with meeting many like-minded believers.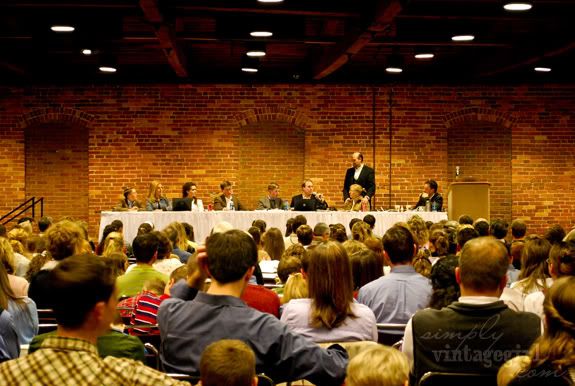 On stage (left to right): Noah, Anna Sofia, Elizabeth, Ben, Lucas, David, Mr. & Mrs. Botkin, and Isaac Botkin.
Here are a few photos and notes from the conference.
5 February 2009
. . . he looked out the window . . .
. . . and decided to take a rest.